Small and Mid-sized Business Marketing
Small and mid-sized businesses (SMB) have the same goals and challenges as enterprise businesses — generating qualified leads and selling products/services to build revenue. What they don't have, are the same resources and expertise for developing and managing effective marketing programs that result in building that revenue. And they certainly don't have marketing budgets that can't be used effectively.
That is why it is important for them to be smart about their marketing efforts and focus on those things that provide the most benefit for the time and resources spent. We get it, after all we are a small business too. Yes, we have worked with larger companies over the years, but we have always felt a special connection to the small businesses that we help — many of which we still work with and consider more than just clients.
We offer Small and Mid-sized business project-by-project support or a more comprehensive marketing program called "The BIG Program." For complete details on the BIG program check out our program page.
Want to get Small Business Marketing Tips?
We will email you a monthly newsletter.
Our project-by-project services and packages are quoted at a flat rate so you can better budget for the project.
Services may include:
Print Design & Creative
Branding
Content Development
Web Development & Maintenance
HTML Emails and Newsletters
Email Campaigns
Online Ads
Illustration
Photography & Video
Social Media
Tradeshow & Event Graphics
Marketing Automation Support
We have also created special packages for those services that are most requested.
BRANDING
Logo Design
Business Card Design
Mini Style Guide
Final Files
WEBSITE
Design
WordPress Platform
Content Review
On-Page SEO
VIDEO
Script Review
Storyboarding
Videotaping
Post-production
CONSULTING
Small and Mid-Sized
Business Design and Marketing Support
InfusionSoft Support

A Comprehensive Marketing Program for Small and Mid-sized Businesses 
The BIG Program helps you get your foundations (your brand and your website) in place and then helps builds a long-term strategy that incorporates marketing automation, lead generation and customer retention for accelerating growth and revenue.
SMALL BUSINESS HIGHLIGHT
The Insight Advantage
Enjoy a project highlight for a rebrand and website development project we did for a local small business.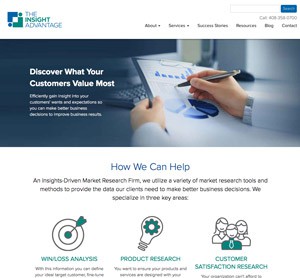 Check Out Our Portfolio
Take a look at some of the brand, design and web projects that we have done.