Focused Marketing for Small & Mid-Sized Businesses
It is especially important today to have a clear marketing strategy, but many small and mid-sized businesses are so overwhelmed with the many options and channels for digital marketing, that they just end up doing nothing or focusing on one area. They don't have time to figure out all things marketing — they are running a business. We get it. That's why we created The BIG Program. It is designed for small and mid-sized (SMBs) businesses and funded start-ups (with sellable products or services) who want to grow through a focused marketing approach.
The BIG Program has a "Build the Basics" option to get solid foundations in place (brand, website, social and content) and a "Grow & Improve" program for those  businesses that want push through to the next sales or revenue level.
Build.

Improve.

Grow.

B is for Build.
Build the Basics focuses on building the foundations for your marketing — brand & messaging, marketing plan, website and social media. The goal is to get a clear picture of what you do or offer, how it is beneficial to others and how you want your company to be seen. Then you can stay focused on and do those things that will really move you towards your goals.  By creating a solid foundation in the  core four areas, implementing a longer term strategy becomes easier.
Build the Basics includes:
Marketing Plan/Brand Development
Build brand and messaging
Create a strong value proposition
Identify target audiences & create personas
Complete landscape analysis
Develop basic marketing plan
Website* and Content
Technical review of website
Content review for the right messaging, tone
Incorporating your brand & messaging
Making your site a marketing tool with strong calls to action and clear messaging
Create site and content updating schedule
Identify content pieces needed for lead gen, etc.
Social Media
Identifying the best channels for your business
Getting your accounts set up and branded
Creating a plan for posting and sharing
Reviewing and discussing optional tools and services
*Module 2 does not include actual redesign or development of your website, but is intended to help you determine if a new site is needed or if your current site can be updated to meet your needs. We are happy to build you a new site if needed. The cost is based on site needs and functionality requirements.
I is for Improve.
Businesses are constantly working to improve something, but ultimately need to improve the bottom line. Improve and Grow uses InfusionSoft to better optimize both your marketing processes and the way you market so you can generate the additional revenue needed for growth. By creating more efficient processes and systems, you free up more of your time to focus on what's next for the business. By improving the way you market, you are more likely to convert and retain customers that will also happily refer you.
Implementing InfusionSoft
Identifying time consuming tasks and implementing more efficient processes
Reviewing, cleaning, growing and segmenting your contact list
Outlining and developing marketing campaigns
Mapping out content needs
Setting up metrics and reporting
G is for Grow.
Now you have all things in place to watch your leads, conversions and revenues grow. But you're not done — marketing can never be put on autopilot (even with marketing automation tools). New campaigns need to be build, new content needs to be created, the website needs to evolve, social media channels need to stay active and metrics ALWAYS need to be reviewed to make sure everything is on track. Most importantly, you need to make sure the customers or clients you have are happy, loyal and willing to refer you.
Adding nurturing funnels, campaigns
Setting up a sales pipeline
Creating a plan to reward loyal customers
Encouraging referrals
Review metrics to improve and adjust strategies
Amping up your social media and content marketing
Incorporating video into the mix
Objectives:
Build the Basics

Solidify the basic marketing foundations

Develop an actionable and realistic marketing plan
Improve and Grow
Increase and segment your contact list for better targeted marketing
Create targeted campaigns for better conversion
Build recognition and trust with usable content and social media
Optimize time-consuming marketing and administrative processes
Create loyal customers/clients that provide referrals and testimonials
Detati Digital Marketing is an

Would you like to schedule a call or an in-person meeting to see how the BIG Program can help your business grow?
What Does The BIG Program Cost?
Part 1 and Part 2 can be done separately as one complete package. All businesses are different so final deliverables and activities may vary slightly depending on the needs.
Part 1: $1295
Part 2: Starts at $2995 + monthly cost for InfusionSoft (~$250/mo.)
Complete Program: Starts at $3995 + monthly cost for InfusionSoft (~$250/mo.)
What is Lifecycle Marketing?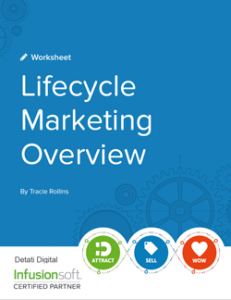 Use this worksheet to assess where you need to focus your marketing efforts in the Lifecycle Marketing process.