Focused Marketing for Small & Mid-Sized Businesses
It is especially important today to have a clear marketing strategy, but  so many small and mid-sized businesses are so overwhelmed with the many options and channels for marketing, that they just end up doing nothing or focusing on one area. They don't have time to figure out all things marketing, they are running their business. We get it. That's why we created The BIG Program. It is designed for Small and Mid-sized (SMBs) businesses and funded start-ups (with sellable products) who want to grow through a focused marketing approach.
Build.

Improve.

Grow.

B is for Build.
The first step is to get your brand, website and basic plan in place — building the foundations for your marketing. Without making sure your brand is clear and your website  presents the image you want, it does not really matter how much effort you make in generating leads, or driving traffic to your site. If the messaging is confusing, inconsistent or the site does not look professional, chances are prospects and visitors will move on. There needs to be a solid foundation in place to launch your marketing.
Focus:
Reviewing visual brand, messaging and value proposition
Updating or redesigning website
Creating basic marketing plan
I is for Improve.
Most businesses are constantly working to improve something, but ultimately are looking to improve the bottom line. The BIG Program uses InfusionSoft to improve both your marketing processes and the way you market so you can generate the additional revenue needed for growth. By creating more efficient processes and systems, you free up more of your time to focus on what's next for the business. By improving the way you market, you are more likely to convert and retain customers that will also happily refer you — something referred to as Lifecycle Marketing. It is a three phase process that provides a blueprint for building and improving the way you reach, convert and amaze your customers.
Focus:
Identifying time consuming tasks and implementing more efficient processes
Reviewing, cleaning, growing and segmenting your contact list
Outlining and developing marketing campaigns
Mapping out content needs
Setting up metrics and reporting
G is for Grow.
Now you have all things in place to watch your leads, conversions and revenues grow. But you're not done — marketing can never be put on autopilot (even with marketing automation tools). New campaigns need to be build, new content needs to be created, the website needs to evolve, social media channels need to stay active and metrics ALWAYS need to be reviewed to make sure everything is on track. Most importantly, you need to make sure the customers or clients you have are happy, loyal and willing to refer you.
Focus:
Creating a plan to reward loyal customers
Encouraging referrals
Review metric to improve and adjust strategies
BIG Program Objectives:
Increase and segment your contact list for better targeted marketing
Create targeted campaigns for better conversion
Build recognition and trust with usable content and social media
Optimize time-consuming marketing and administrative processes
Create loyal customers/clients that provide referrals and testimonials
What is Lifecycle Marketing?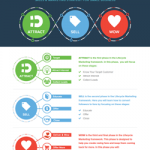 Detati Digital Marketing is an

What Does it Cost?
Every business is different, so we work with you to develop a customized program for you needs. Individual deliverables and areas of focus will vary.
Base Program Pricing: $7995*
*Base program pricing includes brand audit, WordPress website, installation and setup of InfusionSoft, Lifecycle Marketing planner workbook, and initial email campaign. Additional monthly plans can be purchased for continued support. Monthly cost of InfusionSoft not included.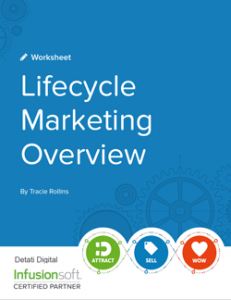 Use this worksheet to assess where you need to focus your marketing efforts in the Lifecycle Marketing process.
Would you like to schedule a call or an in-person meeting to see how the BIG Program can help your business grow?