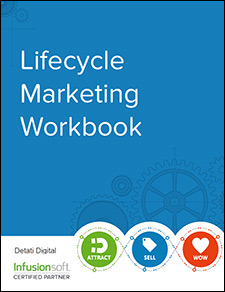 Creating a sales and marketing strategy for your small business can be daunting. Marketing your business involves more than an amazing storefront, nice signage, a well-designed website and a blanket of ads across your local market. It's a strategic plan that includes tactics and tools that are precisely targeted to the audience that you're trying to attract.
The Lifecycle Marketing framework has proven ideas and innovative strategies designed to help you get more customers, grow your sales and save time.
This workbook will help you by asking you to think about specific actions for each of the stage — and write them down so you can reference them later when you are building your marketing plan. This is a basic outline for you to get started.
Get the 8-page Lifecycle Marketing Workbook and learn how you can Attract – Sell – Wow with your marketing
What are the Three Phases?
Attract Phase
Attract is the first phase and the purpose is to get the attention of the consumers or clients that you want to buy your products or services. It includes three stages:
Target – Getting noticed by defining your ideal target.
Attract Interest– Attract visitors to your website with great content.
Collect leads – With web forms that encourage visitors to sign up for your email list.
Sell Phase
Sell is the second phase. As a small business owner, you need to make your product or service the obvious choice when they're ready to buy — you need a strategy.
Educate – Create consistent campaigns of useful information.
Offer – Determine when to provide an offer by understanding your target customer's buying process.
Close – More than just an exchange of money, it needs clear communication, good presence, and written documentation.
Wow Phase
Wow is the final phase. Creating a Wow strategy involves three key stages: Deliver and Wow, Offer More and Referral.
Deliver and wow – Fulfill your commitments on time, then provide additional value that delights customers.
Offer more – Develop a long-term strategy, tactics, products and services to help generate additional sales.
Referrals – Encourage referrals by encouraging and creating incentives for customers and partners