Living and working in Silicon Valley, we get quite a bit of exposure to "start-ups". Of course there seems to be many definitions for start-ups since I have talked to some that have been in business for more than 7 years and still consider themselves a start-up. I think some of it has to do with the "sexiness" of saying I work at or own a "start-up". I still have not found a good definition.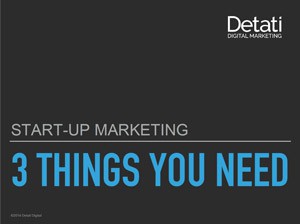 We have the opportunity to host start-up events and meet-ups at our office and recently we were asked to do a short presentation to them about marketing. Initially I thought that it would be waste of time since not only do most start-ups have limited funding and budgets, but they don't even want to think about marketing until they have a product. The focus is on the engineering and design – basically just getting a viable product.
I realized that was my topic. Start-ups should not wait until they have a viable product to start (thinking) about marketing.
The presentation slides are available for download here. Don't worry there are ONLY 10 – following my own advice.